Molly home at Last.. .Gone @340 days
Picture: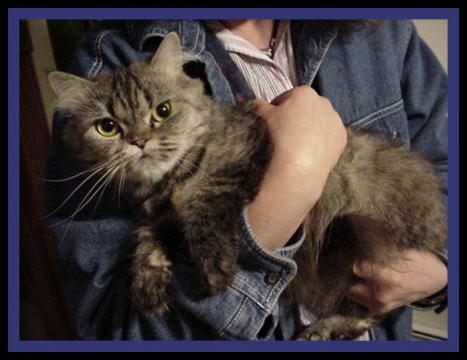 Detailed Description:
Molly Mudpie is home at last after being lost for @ 340 days. She was lost since August 2012. An ad on craigslist said "Free Persian". There was a small picture that looked like it could be my missing cat. I have been praying all this time for God to keep her safe and to watch over her. After being sent a few more pictures I was 100% sure that it was my "Molly." Molly traveled several miles away from home. I picked her up on VanVrankin Ave on July 9th 2013 about 10 miles from were we live. Hallelujiah! My prayers were ansered. Thank you and may God bless all who prayed, fed her, kept her alive and to all who helped with her safe return home. If anyone who reads this and had a part in caring for Molly while she was away I would love to hear from you. If Molly Mudpie could talk I would love to ask her about all her adventures.
City/Town Lost:
Town of Guilderland
Phone Number:
518 356 2134
Email:
stevedarcats@yahoo.com