LOST - Male Black Long-hair
Picture: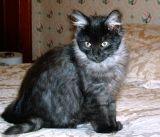 Detailed Description:
Raiden has long black hair with gray/white under his neck and belly. His nickname is Cuddy "kuh-dee". He has light greenish yellow eyes. He is 2 1/2 years old (b: Nov. 2007). I am attaching a photo of him as a kitten. He is very friendly, but may be afraid. He has no history of biting and he gets along well with children. There is a $100 reward for his safe return.
Street Lost:
Hudson River Rd.
City/Town Lost:
Mechanicville/Halfmoon
Phone Number:
518-633-1975
Email:
runyon.tanya@gmail.com