LOST - Brown and White Tabby
Picture: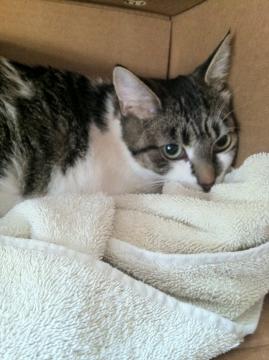 Detailed Description:
Eve is a feral house cat that we rescued late September. She is very, very afraid of people and will hiss at you or run if you approach her, but she will not scratch you. She's not aggressive at all, just very afraid and unsure of humans. She is longer than average, and is around a year old. The brown tabby pattern continues down her back and along her tail. Her legs are all white, the pads of her paws are all black. She is a very distinctive looking cat and it's hard to mistake her for another! The only way she can be captured is if you were to corner her and quickly grab her with a towel so that you can wrap her limbs up, then put her in a carrier. You could also try using a raccoon trap (cage-like trap, you put food at the opposite end of the opening and when the animal goes inside it triggers the door to close). We know it's a long shot, but we'd really appreciate the effort if you see her around!
City/Town Lost:
Scotia/Glenville (Schenectady-Saratoga area)
Phone Number:
518-860-3396
Email:
lunchboxvanity@aim.com