Lost and Found Pets
Instructions
To post your own ad for a lost or found pet, you must first create an account and login.
You may post a reply to someone's ad without logging in.
Click here to create an account.
Please do not use this page to post animals looking for a new home.

He's grey and black, with a blue collar. He...

found on Sweets Crossing in Nassau (12123)...

On Friday, 8/21/15 around 5pm Lulu took a walk...

During a move my lucy got out , In Albany NY ,...

Ollie is a large brown (with black stripes) Tiger...

Ender is an indoor cat that escaped from my...

Flynn is white and gray with black stripes. He is...

Peepers is a small bengal cat weighing about 5...

Found male, neutered, Tuxedo cat, 9 lbs. Very...

Her name is Muse, and she is trusting and...

Moved in under back porch last week. Clearly...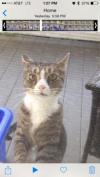 Sweet and friendly grey, brown and white tiger/...