LOST - 8 month old black female kitty. lost in the melrose area of albany by the state offices. she was lost new years eve around midnight. she has a little white patch on her chest and has yellow/green eyes. we miss her. let us know if u know anything pl
Picture: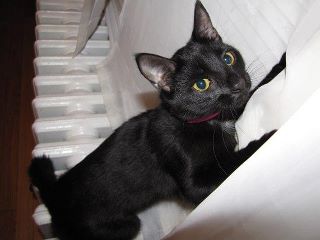 Detailed Description:
shes a black kitty with a white puff of hair on her chest, she wont be wearing a collar she slipped out of it, she has green/yellow eyes. she will be skiddish beacuse she is an indoor cat and has never been outside. please if anyone finds her or has info about her please call the cell number provided. we are heartbroken and just wanna find her and bring her home :(
Street Lost:
clermont st.