Barn Friends Forever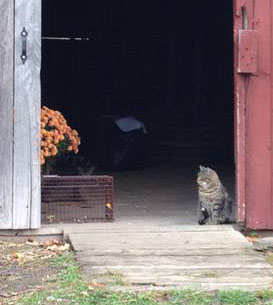 Barn Friends Forever is a special adoption program to place feral cats with owners of farms, stables, greenhouses, country estates, and other safe locations.
Feral cats are, for the most part, domestic cats that have been born outside and survive on their own. They often live in colonies and generally are fearful of humans. The ASPCA reports that the average life-span of a feral cat, that is not living in a colony supported by a human caretaker, is only two years. Those feral cats that are spayed/neutered and are lucky enough to have a caretaker who provides shelter, food and water, have a much longer life-span.
Each Spring, when kitten season rolls around, Whiskers is called upon to trap feral cats that are pregnant or have kittens. It is a very high priority for Whiskers to save these kittens from the harsh realities that come with being born outside to a stray or feral mother. Unfortunately, when we rescue these moms and their kittens, we often find pregnant sisters or "last year's" kittens who also need help. Sometimes a caretaker is available, and the adults can be returned after spaying/neutering. And sometimes, if a foster home is available, the feral "teenagers" can be made adoptable. However, we find many cats that cannot be safely returned to their location or adopted as household pets.
People who adopt through the Barn Friends Forever program give these deserving cats another option that they desperately need, and in return they are rewarded with the presence of these beautiful and intelligent creatures with excellent mousing skills. It is known that cats that are well fed actually make better mousers than cats that are made to fend for themselves. We recommend adopting two or more cats at the same time as they are social animals and the companionship will help them make a more successful transition. There is no adoption fee, but donations are greatly appreciated.
Here's how it works:
Whiskers will ensure that the cats are spayed/neutered, vaccinated (rabies & distemper) and tested for FeLV/FIV before adoption.
Your cats will be delivered by a Whiskers volunteer who will help you get them settled in. The cats must be confined for 3-4 weeks while they adjust to their new surroundings and get to know their caretakers. Large wire dog crates and kitty condos are available for loan during the transition period. The adopter must feed, water and scoop their litter daily.
When it comes time to release your cats, they will be familiar with the smells and sounds of their new home and will not think of you as strangers, but as the nice people feeding them.
The adopters must be willing and able to provide the cats with food, water, and shelter daily, all year round. They are a responsibility and require a life-long committment of care.
If you have a place on your property and in your heart, and would like to adopt from Barn Friends Forever, please fill out our
BFF adoption application
.